Liza [Elizabeth] (Nina Mary Frederica) Lehmann (née à Londres le 11 juillet 1862 - morte à Pinner le 19 septembre 1918) était une chanteuse et compositrice anglaise.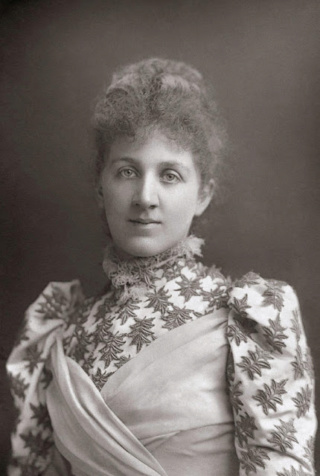 Fille d'Amelia Chambers et du peintre Rudolf Lehmann, elle s'est formée initialement avec Alberto Randegger et Jenny Lind. Plus tard, elle s'est rendu à Rome où elle a reçu une formation de composition de Niels Raunkilde. Plus tard, elle a déménagé à Wiesbaden, où elle a étudié avec Wilhelm Freudenberg, et est finalement revenue à Londres, où elle a étudié avec Hamish MacCunn. C'est là qu'elle fait ses débuts en public le 23 novembre 1885 dans le cadre du Concert populaire du lundi.
À partir de ce moment, elle progresse jusqu'à recevoir le soutien de Joseph Joachim et de Clara Schumann. En 1894, elle se retire en tant que chanteuse et se marie avec Herbert Bedford, se sentant alors plus concentrée sur la composition.
En ce sens, elle a été l'auteur de nombreuses mélodies avec lesquelles elle a donné plusieurs concerts. En 1911, elle devint présidente de la Society of Women Musicians, peu après avoir été professeur à la Guildhall School of Music and Drama. Liza Lehmann, considérée comme une des plus importantes compositrices d'Angleterre avec Maude Valérie White, est morte à Pinner en septembre 1918.
Œuvres
Stage:
The Twin Sister (incid. music, L. Fulda), London, 1 Jan 1902, 2 songs (1902);
Sergeant Brue (musical farce, 3, O. Hall [pseud. of J. Davis] and J.H. Wood), London, 14 June 1904 (1904);
The Vicar of Wakefield (romantic light op, 3, L. Housman, after O. Goldsmith), Manchester, 14 Nov 1906, London, 12 Dec 1906 (1907);
Everyman (opera, 1), London, 28 Dec 1915 (1916)
Other works:
Vocal with orch:
Young Lochinvar (W. Scott), Bar, chorus, orch (1898);
Endymion (scena, H.W. Longfellow), S (1899);
Once upon a Time, cant. (1903);
The Golden Threshold (S. Naidu), S, A, T, Bar, chorus, orch (1906);
Leaves from Ossian, cant. (1909)
Song sets and cycles (complete list):
8 German Songs (1888);
12 German Songs (1889);
9 English Songs (1895);
In a Persian Garden (E. FitzGerald, after O. Khayyām), S, A, T, B, pf (1896);
In memoriam (Tennyson) (1899);
The Daisy-Chain (L. Alma-Tadema, R.L. Stevenson and others), S, A, T, B, pf (1900);
Cameos: 5 Greek Love-Songs (1901);
5 French Songs (G. Boutelleau, F. Plessis) (1901);
More Daisies, S, A, T, B, pf (1902);
Songs of Love and Spring (E. Geibel), A, Bar, pf (1903);
The Life of a Rose (L. Lehmann) (1905);
Bird Songs (A.S.) (1907);
Mr. Coggs and Other Songs for Children (E.V. Lucas) (1908);
Nonsense Songs (from L. Carroll: Alice in Wonderland), S, A, T, B, pf (1908);
Breton Folk-Songs (F.M. Gostling), S, A, T, B, pf (1909);
Four Cautionary Tales and a Moral (H. Belloc), 2vv, pf (1909);
Liza Lehmann Album (1909);
5 Little Love Songs (C. Fabbri) (1910);
Prairie Pictures (Lehmann), S, A, T, B, pf (1911);
Songs of a 'Flapper' (Lehmann) (1911);
Cowboy Ballads (J.A. Lomax) (1912);
The Well of Sorrow (H. Vacaresco: The Bard of the Dimbovitza) (1912);
5 Tenor Songs (1913);
Hips and Haws (M. Radclyffe Hall) (1913);
Songs of Good Luck (Superstitions) (H. Taylor) (1913);
Parody Pie, S, A, T, B, pf (1914);
3 Snow Songs (Lehmann), 1v, pf, org, female vv (1914);
3 Songs for Low Voice (Meredith, Browning) (1922)
Many single songs, incl. Mirage (H. Malesh) (1894);
To a Little Red Spider (L.A. Cunnington) (1903);
Magdalen at Michael's Gate (H. Kingsley) (1913);
The Poet and the Nightingale (J.T. White) (1914);
The Lily of a Day (Jonson), 1917;
There are Fairies at the Bottom of Our Garden (R. Fyleman), 1917;
When I am Dead, My Dearest (C. Rossetti), 1918
Other vocal works, incl. The Secrets of the Heart (H. Austin Dobson), S, A, pf (1895);
Good-Night, Babette! (Austin Dobson), S, Bar, vn, vc, pf (1898);
The Eternal Feminine (monologue, L. Eldée) (1902);
The Happy Prince (recitation, O. Wilde) (1908);
4 Shakespearean Part-Songs (1911);
The Selfish Giant (recitation, Wilde), 1911;
The High Tide (recitation, J. Ingelow) (1912);
Behind the Nightlight (J. Maude, N. Price) (1913)
Instrumental:
Chbr and inst works, incl. Romantic Suite, vn, pf (1903);
Cobweb Castle, pf (1908)